In 2020, it will be the 70th anniversary of Oxelösund being granted its city charter. We are celebrating that by arranging many different activities.

Visit Oxelösund >>
Kajak och Frid operates at Jogersö seaside resort. You can go out on your own kayaking trip or book one of Martin's trips.
Visit Kajak och Fritid's hemsida.

Kayaks & Gong baths!
Come and experience an inner and outer journey out of the ordinary. We paddle out to an archipelago cottage where you are treated to a gong bath and wholesome soup before we paddle back through the archipelago in the evening.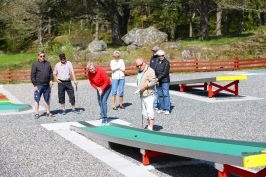 Our newly built golf course opened in 2017 with 18 holes and is approved for competitions of Swedish Championship standard.

Get your clubs and pay at the campsite reception.

Youth up to 16 years, 30 SEK
Adult 50 SEK
Family with own children 150 SEK
Pensioner 30 SEK

If more than 10 persons want to play outside the opening hours, please contact us.
A quiet place with a lot going on
The campsite has a prepared boule court that is open to all. Boule balls can be borrowed from the reception.
JOGERSÖ CAR BOOT SALE 2021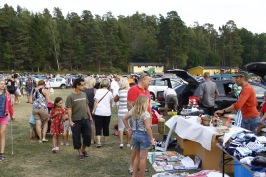 We look forward to the car boot sale in summer 2021.

Admission for sellers from 3 pm, sale from 5 pm to 7 pm
Price per car 150 SEK, car with trailer 200 SEK. Payment on location by Swish or cash.
When you step into Boda Borg, opportunities open up to try things you never imagined. Together, in teams of 3 to 5 you choose from our quests and take on the challenges that suit you. We have everything from purely physical sessions to tricky puzzles, and you choose what you want to test. Here, cooperation is important as you work as a team from challenge to challenge until you reach the goal at the end of the quest.

Read more here >>
A quiet place with a lot going on