Our recently completed tent igloo is located at the edge of the campsite, right under the canopy of the trees.

You can park the car close the igloo, but to get to it you have to walk along a short forest track and then up the steps onto the tent igloo terrace.
There is a large furnished terrace and a hammock. Guests sleep in a continental double bed, and on any extra mattresses/camp beds they bring along.
The self-catering tent igloo is about 36 sq. m and has electricity, a refrigerator and hotplate. It is currently equipped for 2 persons.
Pillows and blanket are provided, but bring your own bed linen or hire them from us.
Toilet and shower are available in the service building, which is max. 100 metres away. The tent igloo has heating with its own air heat pump.
Pets are not allowed.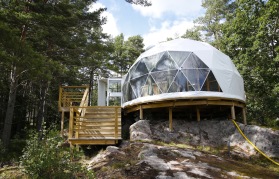 The tent igloo can be booked online or through the reception.